Dance d' Elegance
750 E. Washington St. #F1, Medina, OH 44256
Welcome to the wonderful world of dance!
A great way to meet people, have quality time with your partner, and keep fit.
A great way to meet people, have quality time with your partner and keep fit. Healthy fun!
Private Dance Lessons
Introductory Special – try one for only $49!
Group Classes
Starting Soon – space is limited so sign up today!
Ballroom Dancing
Group lessons
Four Week Class starting Wednesday, September 7 at 6:30 pm – only $80/person
Learning to dance in a group is the most affordable and fun way to learn!  
Saturday Morning Line Dancing Workshop with Martha
Great way to exercise AND have lots of fun! Easy, Intermediate, and Advanced dancing interspersed over two hours.  All music genres!
Three workshops over the summer- Saturday June 11, July 9, and August 13 9:30 am to 11:30 am.Ladies and Gentlemen, partner or no partner, young and old are invited!
$10 per workshop or all three for only $25. Advance registration required. Space limited.
Couples only:  Slow dancing with Style
No desire to learn the "fancy stuff" but you want to be able to hold your partner and move with romance, grace, and style?
End awkwardly swaying back and forth!  Your partner will appreciate you taking a few hours to make these special moments, in your arms, heavenly!  Great Date Night!
Two Sessions:   Thursday August 25th and September 1st

,

 9pm to 9:45pm  Only $25/person
Wedding Dance Workshop
Whether you are a bride, groom, or parents of the happy couple, this course will help you look good dancing and enjoy the BIG Day. 
Five week workshop will teach you the basics to dance to almost any wedding-song music.  (Ok, maybe that is an exaggeration, it won't work for hip hop or break dancing! LOL!)
4 classes only $80 / person  – Call for next class dates!
West Coast Swing
Do you know a little west coast swing but want to improve your style plus learn new steps?
Call to sign up for next session.
Argentine Tango
An international dance which is fun and exotic!  No dance experience or partner necessary. Experienced Professional Instructor, Anita Converse, is well known in Northeast Ohio. She is brought in by request and will share her passion for this dance.
Monday Evenings, 6:00pm to 6:45pm September 19, 26, October 3, 10,19, and 24th.
 Six Week Course only $120/person
Added Bonus!   We will be hosting two Argentine Tango and Latin dance nights; Friday October 14th 7pm – 10pm  and Friday November 11th  7pm – 10pm  Come to practice with other students and social Argentine Tango dancers from Northeast Ohio!  
$15/person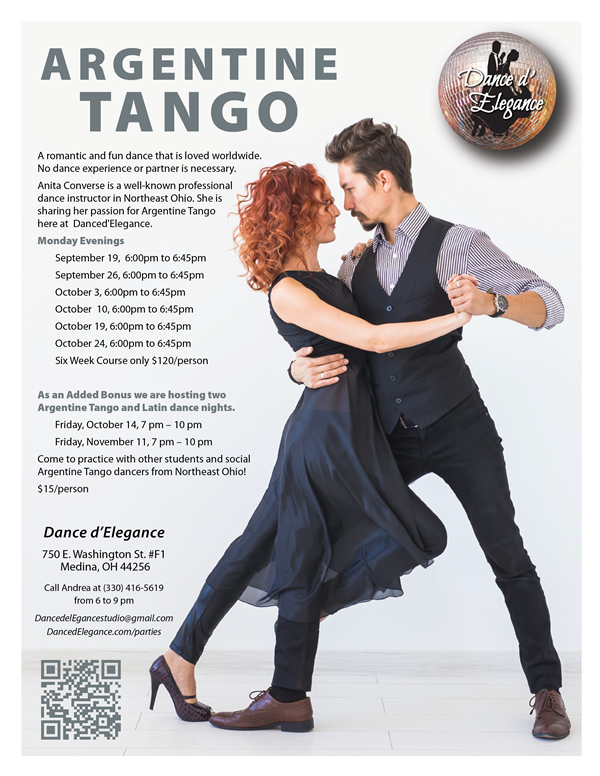 We offer a number of ways to learn how to dance to fit everyone's schedule and budget.
Private Lessons
Learn at your own pace with focused attention from a professional dance instructor. Regularly scheduled lessons to fit your schedule. 1 person or a couple per teacher (45 minutes)
Shared Lessons
Perfect option when you have another couple or two to share the learning and fun. Sometimes, we can also pair you up with others who are at a similar level. 3 to 6 students per teacher (45 minutes)
Group Lessons
An affordable option for beginners or those on a budget.  Every two months a cycle for a new dance is started.  7 to 20 students per teacher (45 minutes)
Create Your Own Dance Class
Perhaps you are in a golf or bowling league or attend weekly football games with your friends. Why not have your own dance class and dance with your friends every week? We have different dates and times available. You choose the dance you want to learn from the dances below and we will create a class just for you and your friends.