Dance d' Elegance
750 E. Washington St. #F1, Medina, OH 44256
Welcome to the wonderful world of dance!
A great way to meet people, have quality time with your partner, and keep fit.
A great way to meet people, have quality time with your partner and keep fit. Healthy fun!
Private Dance Lessons
Check the image below for details and pricing/
Have your own private teacher working with you.  This is the quickest way to become a competent dancer.   
Get your first one for only $49! .
Group Classes
Group lessons are an affordable and fun way to learn to dance.  Make new friends or bring your own! 
New group lessons start regularly and are taught Monday through Thursday nights. 
Latin Dancing
Salsa
Spice up your summer and learn Salsa!  Great Latin dance for small dance floors.   
Starts Monday, July 10

th

    8pm  –  3 weeks ( 7/10, 7/17, 7/24 ) for only $120/per couple+
Ballroom Dancing
Group lessons
Learning to dance in a group is the most affordable and fun way to learn! 
Starts Wednesday June 7 at 7:30pm
Only $80 for 4 week session (6/7, 6/14, 6/21, and 6/28 )
Couples and Singles are encouraged to join – Singles, we often find a learning partner for you
Wedding Dance Workshop
Whether you are a bride, groom, or parents of the happy couple, this course will help you look good dancing and enjoy the BIG Day. 
Five week workshop will teach you the basics to dance to most wedding-song music.  Great Shower/Wedding Gift!
Starts Tuesday June 6th at 6:30
5 weeks only $199/couple   ( 6/6, 6/13, 6/20, 6/27, 7/11)  
West Coast Swing
Do you know a little west coast swing but want to improve your style plus learn new steps?
Call to sign up for next session.
Argentine Tango
A fun and exotic international dance. No dance experience necessary. Experienced Professional Instructor, Anita Converse, is well known in Northeast Ohio. She is extremely talented and passionate to share her love for this dance.
Fundamentals 1: Monday Evenings, 6:00pm to 6:45pm starting August 14th   (8/14, 8/21, 8/28, 9/11, 9/18, 9/25)
6 classes $240/couple $120/single
Fundamentals 2: Monday Evenings, 6:45pm to 7:30pm Starting August 14th   (8/14, 8/21, 8/28, 9/11, 9/18, 9/25)
6 classes $240/couple $120/single
Note: Ask us about 50% discount for reviewing Fundamentals 1 when taking Fundamentals 2 !
Added Bonus! We host "Argentine Tango Practica Socials" once a month 7pm – 9:30pm Come to practice with other students and social Argentine Tango dancers from Northeast Ohio!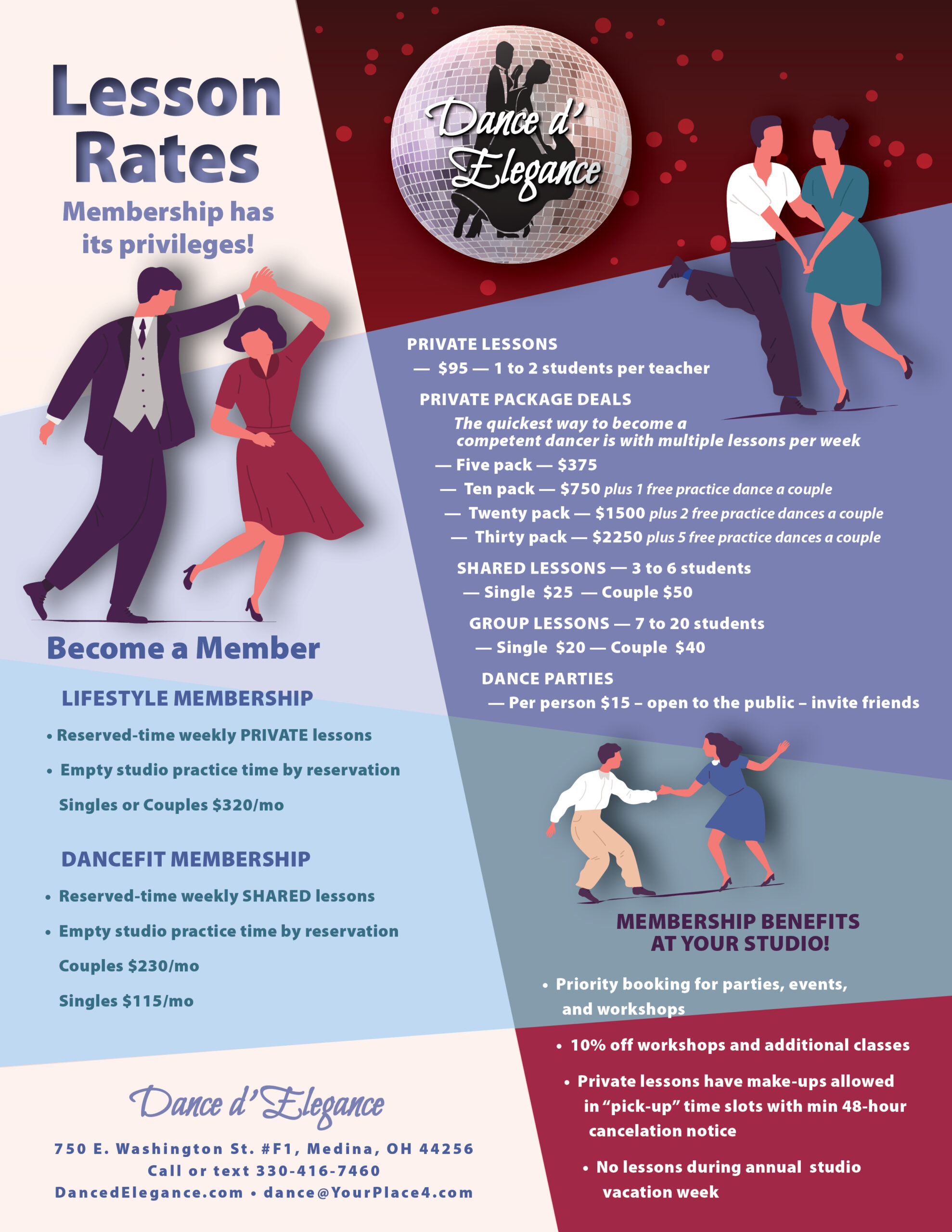 We offer a number of ways to learn how to dance to fit everyone's schedule and budget.
Private Lessons
Learn at your own pace with focused attention from a professional dance instructor. Regularly scheduled lessons to fit your schedule. 1 person or a couple per teacher (45 minutes)
Shared Lessons
Perfect option when you have another couple or two to share the learning and fun. Sometimes, we can also pair you up with others who are at a similar level. 3 to 6 students per teacher (45 minutes)
Group Lessons
An affordable option for beginners or those on a budget.  Every two months a cycle for a new dance is started.  7 to 20 students per teacher (45 minutes)
Create Your Own Dance Class
Perhaps you are in a golf or bowling league or attend weekly football games with your friends. Why not have your own dance class and dance with your friends every week? We have different dates and times available. You choose the dance you want to learn from the dances below and we will create a class just for you and your friends.